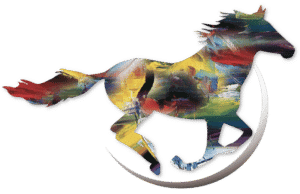 Our new supplement line provides optimal nutrition as we combine minerals, vitamins, fats, proteins and fibers to address common health concerns like digestive challenges, skin conditions and hoof health.

We've also created supplements to correct behavioral issues and to provide a needed calorie boost for horses. Knowing hoof health is critical, we formulated a hoof supplement that thickens hoof walls, promotes growth and prevents cracks.

Our supplements are composed of high quality palatable ingredients which allows them to be easily mixed into the daily feed. As we continue to develop new supplements to address specific health issues, we listen to our customers so that we can develop nutritional supplements to meet their needs.
Guaranteed Analysis
Hoof Pro Plus®
Equilistic®
Equigleam®
EquiEdge®
Level Out®
Toplyte®
Crude Protein
14.00%
10.00%
8.00%
12.00%
14.00%
6.00%
Lysine
0.65%
0.90%
Crude Fat
4.00%
2.50%
40.00%
18.00%
3.00%
8.00%
Crude Fiber
14.00%
11.00%
10.00%
13.00%
10.00%
18.00%
ADF
14.50%
14.00%
5.00%
4.00%
12%
2.00%
NDF
31.50%
25.00%
5.50%
4.50%
16%
4.00%
Calcium (min)
0.25%
3.50%
0.80%
2.30%
90%
0.20%
Calcium (max)
0.75%
4.50%
1.20%
2.80%
1.50%
0.40%
Phosphorus
0.40%
2.00%
1.00%
1.50%
60%
0.30%
Copper
650ppm
35ppm
50ppm
8ppm
Zinc
2,400ppm
120ppm
85ppm
4ppm
Selenium
0.90ppm
30ppm
Vitamin A (min IU/lb)
5,000
6,000
Vitamin D3 (min IU/lb)
1,000
Vitamin E (min IU/lb)
40
500
Biotin
136
Methionine
3.55%
Omega-3DHA
15.00%
Salt (min)
7.00%
Salt (max)
8.00%
Potassium
2.50%
Magnesium
0.20%
Feed Form
Pellet
Microbial Count (min CFU/lb)
1,000,000
1,000,000
(Lactobacillus acidophilus,
Enterococcus faecium,
Lactobacillus brevis,
Lactobacillus plantarum,
Pediococcus acidilacticii)