An Equine-Only Feed Company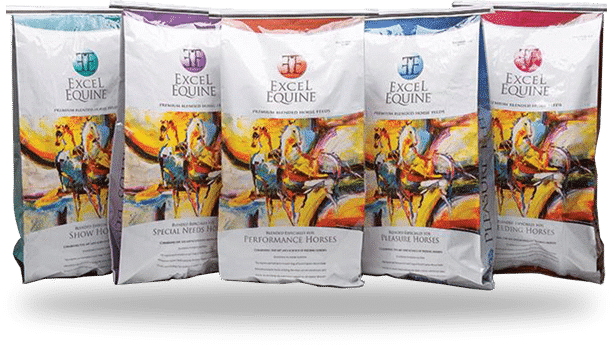 When two longtime, successful Kentucky feed companies merged in 2014, the result was Excel Equine® , an equine feed maker that's earned respect for creating premium feed blends that focus on nutrition and are free of antibiotics or other medications. Excel Equine makes feeds and supplements only for the equine industry, one of the few feed companies in the U.S. to do so.
Since it was founded, Excel Equine has grown rapidly, doubling its number of premium feed blends, creating a line of feed supplements and tripling its distribution network. Its rapid growth and success is fueled by horse owners' demand for feeds that are safe, ensure optimum health and are formulated for a horse's breed, activity level and stage of life.
Excel Equine's more than 30 premium feed blends and its supplement line are available primarily in the Southeast as well as New York and Ohio. Distribution continues to expand as new feed dealers are added.
The company has become a valued partner in equine industry efforts and events, from thoroughbred and Standardbred racing and gaited horse shows to barrel racing and three-day eventing. Among the projects it supports are the Retired Racehorse Project and the Maker's Mark Secretariat Center, both of which help retired racehorses find new careers. It has launched a recycling program to keep as many of its durable BOPP plastic feed bags out of landfills as possible. It has also enlisted a number of horse owners from different disciplines as Excel Equine ambassadors. They share how Excel Equine 's nutritious and carefully formulated premium feed blends have helped improve their horses' health and performance. Although Excel Equine is a relatively young company, its founders and owners, David Williams and Kent Thompson, are not new to animal nutrition or the equine industry. They are horsemen, and both have doctorates in animal sciences and have researched animal nutrition for decades. They both owned and operated feed companies before they teamed up to create Excel Equine.
Their passion for horses and for equine nutrition has resulted in a company that blends art and science to create premium feed blends that promote health and well being in horses of every breed and at every age.
"We've earned the respect of horse owners, trainers and managers which has allowed us to get our foot in the barn door. We've been successful because of our feed blends, but also because of the quality of our people who make, sell and deliver our products and serve our customers. I'm proud we have such a great group of people who work together to get it all done and who care about it as much as I do. I have put my heart and soul into this industry and into this company. We have a staff who care as much about putting out a good product as I do. I am very proud of that."